Julia Gnuse, 55, from California, has ink over 95% of her body. She has been awarded the Guinness World Record for having the most tattoos.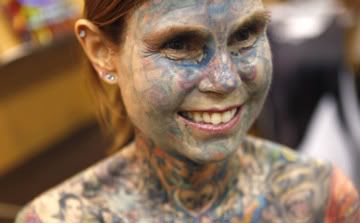 According to an article in the Orange Sun, Julia started getting tattooed in an attempt to cover up an unsightly skin condition called porphyria which causes the skin to blister when exposed to sunlight.
Gnuse said she just "got hooked". "I got addicted," she told a reporter.
The whole story:
http://web.orange.co.uk/article/quirkies/The_worlds_most_tattooed_woman?sid=d03a37c586e2